I just finished The All-Road Bike Revolution, and it blew my mind. I know *a lot* about bikes, and I still have so much to learn!
My key takeaways, with page numbers:
13: tires 38-55mm
30: 'reducing a cyclist's frontal area is the best way to reduce their aerodynamic resistance'
31: lowering stem 20mm decreases wind resistance by 5% – about twice as much as a set of aero wheels
full aero tuck even more aero than aero bars
32: on downhills > 6.5%, coasting in aero tuck = faster than pedaling from upright 400W
33: 'a loose-fitting cycling jacket increases the bike-and-rider's wind resistance by a whopping 12%. a tighter-fitting jacket causes a much smaller increase in drag of 4%'
34: forward (of wheel's center) part of a fender acts as a fairing, reducing drag. back part increases
35: handlebar bags increase drag 2-5%. saddlebags ~7%, front panniers <10%, rear panniers ~15%. with crosswinds, front = 3% rear = 30%
37: commuter = track + 80% wind resistance. randonneur / race = track + 36% wind resistance
38: drafting +38% rear rider and 3% front
43: higher tire pressure is slower on rough roads
46: changing tires can increase speed 8-20%
61: 'planing'
117: keep stem under ~100 cm if using a handlebar bag
123: bend elbows (except when braking)
137: fast tires have supple casings
139: on smooth pavement , 53mm runs as fast as 25mm
145: use latex tubes (not butyl rubber)
162: good wheels last 20k+ mi
163: butted spokes last longer than thicker
164: 28 spokes sufficient (especially wider tires / 650b)
179: shock-absorbing forks (shocks or flexible steel) can reduce power required to pedal on rough terrain by 7%
186: brake cable losses to housing friction can be considerable. use compression-less housing, especially for disc. wide curves, and minimizing amount of housing (exposed cable runs with stops)
191: for mechanical discs, use bigger than 160mm
195: 'the concept that underlies derailleurs makes engineers shudder: to change gears, you bend the chain until it jumps onto the next cog. depending on your gear, the chain may not run straight. a spring takes up the chain slack. it seems crude, and yet it remains the most efficient system.'
202: crank q factor (horizontal distance between pedal eyes) should be <150mm or power's reduced.
203: chainline = distance from frame centerline to middle of sprockets (middle of 3 front chainrings & middle gear in back). should be same or almost in front & back.
'during steady efforts, pedals without foot retention do not give up much in efficiency and speed'
218: good camping bike = no hands w/ 44#+. 'if the rack slands outward at the bottom, gravity pulls the panniers toward the rack. this prevents wiggling and wobbling of the panniers'
233: best frame you can afford, handbuilt wheels, mid-level components.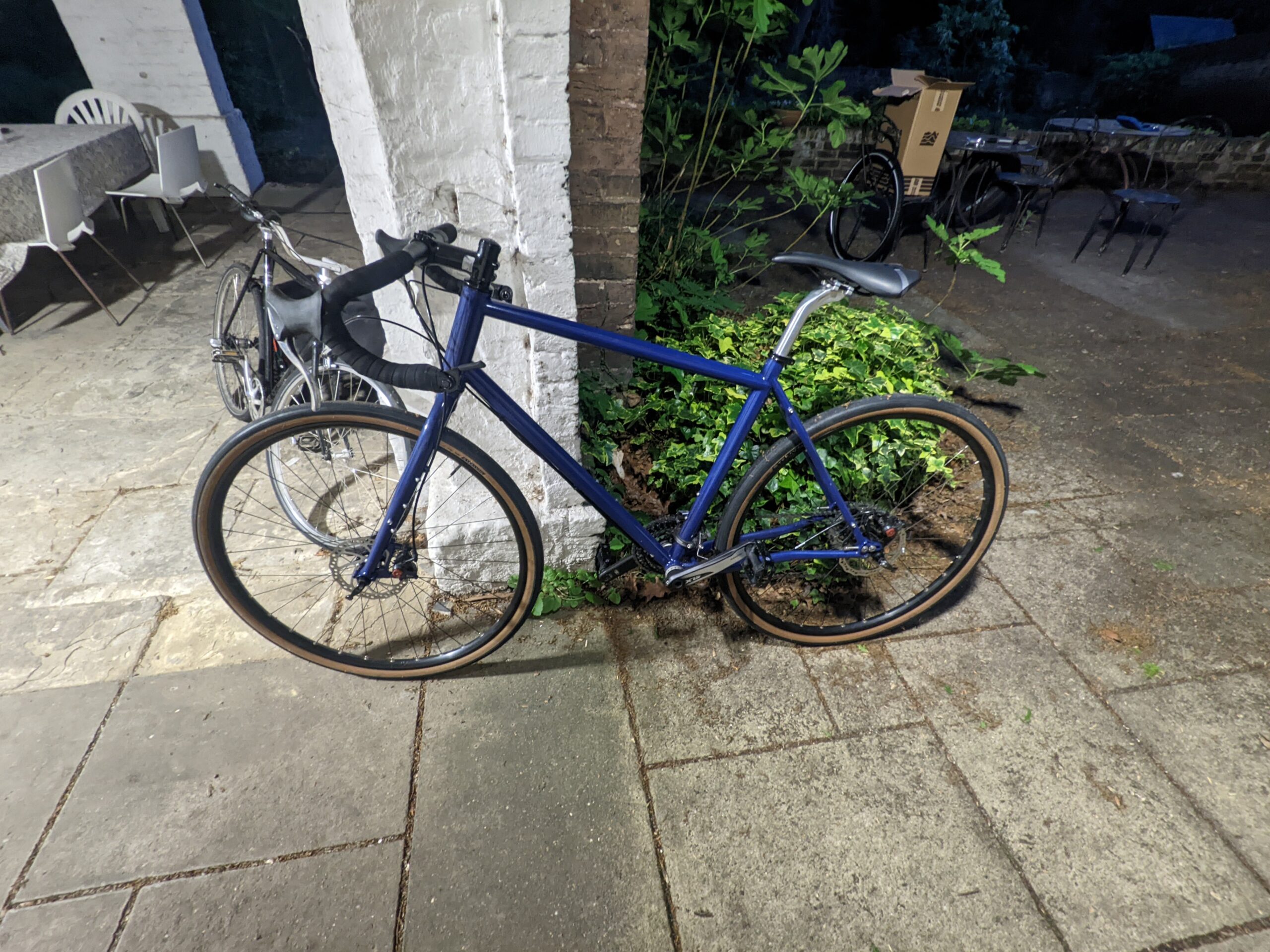 Here's my London ride with supple tires, longer stem with 1-degree more drop, and latex tubes. I love it even more than I did before. Definitely still not setting any speed records, but genuinely feels more comfortable and fun!