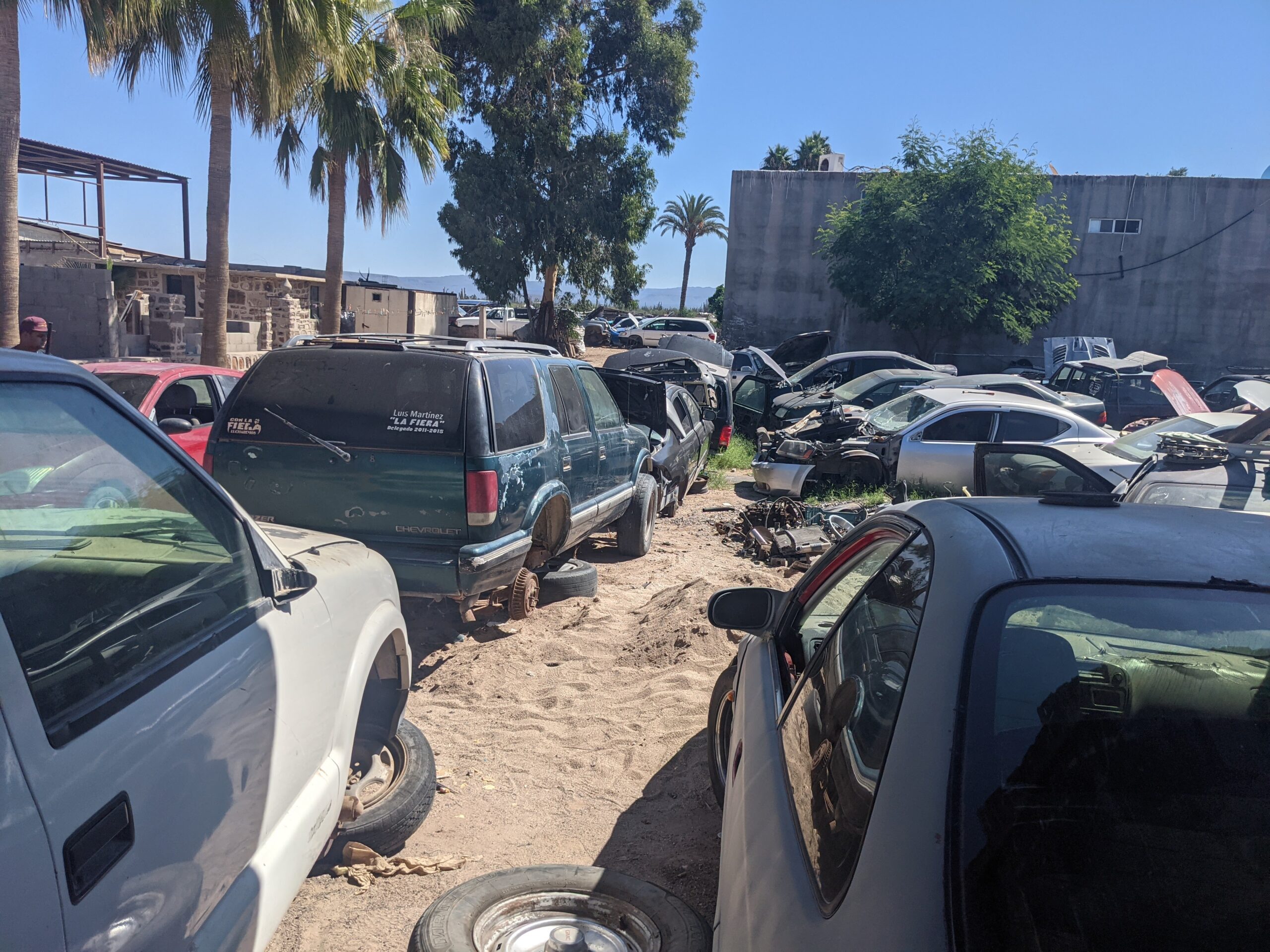 Craig smartly pushes me to get a spare; nowhere has it. i insist on trying one junkyard; boom: the only tire of our trailer size to be had in town. We roll with an extra wheel. 
And we make it to Loreto! Cops are pissed at me parking ginormous truck trailer combo sticking into street. They become very pissed when i give a photocopy of my license (a trick I learned last trip is to insist that they need to hold your actual driver's license at HQ for days unless you "pay the ticket" on the spot). Very pissed as in one has his hand too close to his rifle for comfort while screaming something about how this is Mexico. Then, all of a sudden, no ticket no fine and the cops leave. Very strange; both Craig and I still aren't sure what that was about. Dinner's interrupted by the hotel calling: I have to move truck and trailer (parked wrong way for side of street I'm on) within 15 minutes or the cops say they're going to tow it.
A couple beers in and still waiting on pizza to soak it up, I jog the mile back to deal with this while Craig chills at the restaurant.
I might have gotten out of the ticket if the cops (different ones from last encounter) didn't know I was staying at this nice hotel and/or I didn't admit to eating at the nice pizza place. Tipsy with beer and elation that they laughed at my attempts at jokes in spanish (hotel es stupido! ellos pagan mil dolares en vez de mi! el hotel tienes todo mi dinero!), I give them the $20 they're insisting I owe.
Suddenly, we're best friends: they offer me a ride back to the restaurant! I take it, getting them to turn their lights on in an attempt to scare Craig. He doesn't notice; no joke, i ask them to "oink oink," motioning like I'm sounding a car's horn. They do; Craig thinks someone across the street is getting pulled over. No matter: i'm very entertained. The rest of the pizza and beers tasted well over $20 extra sweet;)